"Revival of Tohoku-Tome City Satoru Sato Art Museum Special Exhibition"
The exhibition starting from September 2013 displayed formative models and drawings which pay much attention to direction,climate,history,and environment. Over 40 works by artists from over 30 countries including Japan, Korea, Lebanon, Morocco, and Germany,were connected by geometrical lines and the space in between represents wishes for world peace through co-existence and co-prosperity with different cultures. This display really reflects Sato's message that "the world ,tied up strongly with each other, is supporting Japan and Japanese people who were hit by the devastating natural disaster."
Various people from amateurs to professionals presented their products in the exhibition:collaborative works of "kizuna"or ties by school children of Tome City and Minamisanriku Town hit by the tsunami, a model set up outdoor by children and parents who participated in the workshop ,and great works by first rank artists in the area of abstract art. The residents in Katahira, Sendai, participated in the exhibition in the form of producing their works after the workshop.Moreover,another workshop was done on folding papaer after the Miura-ori style,which is applied the panels of an artificial satellite and might give an inspiration amateurs as well as artists. All of these works were dedicated to the theme of revival and also contribute to the high quality of the exhibition.

First Visit to the Museum by a Tourist Group

On December 1, 2008, a tour group of about 50 people visited the Satoru Sato Art Museum and enjoyed contemporary art.
They were tourists on a tour called "Hotel Kanyo and Time Travel to the Meiji era," planned by JTB (Japan Travel Bureau). The itinerary of this two-day tour includes staying in the Minami-sanriku hot spring, visiting Toyoma, Miyagi's Meiji-mura, Satoru Sato Art Museum, the birthplace of Syotaro Ishinomori, a world-famous cartoonist, and shopping for farm-fresh vegetables at Nakada Aisan-kan. This tour will run through January, 2009.


A Practice Class on Paintings by Straight Lines Held



Satoru Sato's painting class, which aims to have participants experience the pleasure of art, was held at the museum on September, 30, 2008. This time, 26 fourth-graders of Yoneoka Elementary School in Tome City, joined the class and worked on a joint production. After these schoolchildren appreciated the exhibition, "Paintings by Straight Lines and Visual Art", they, imitating the favorite works they had seen there, painted on rectangular foam polystyrene of various sizes by water color and pasted their works on the wall of the corridor, instead of the canvas.



"Paintings by Straight Lines and Visual Art" on Exhibition
This exhibition, starting on September 1, 2008, displays 63 pieces on the third floor, selected from the collection, which are paintings using straight lines on a surface plain, relief, objet ,and works of visual art. In addition to this, a cubic work is displayed in the entrance hall. Here in these works, there lies the world of a straight line, or a world beyond the line.

Grand Opening Party Held



On September 13, 2008, a grand opening party was held in the hall next to the museum to celebrate the publication of the catalogue of the museum collection with the attendance of about 200 people from within and outside the city. There were visitors from Sendai, the metropolitan area, and the Kansai region, far from here. At the start of the party, Sato remarked to the audience, "Art is indispensable to character building and can nurture one's heart to appreciate beauty. However, unlike in Western countries, in Japan the budget for art or culture is the first one to be cut, particularly during periods of economic downturn. I would like you to support the world of art even in tough economic times." The participants enjoyed the DVD which traces Sato's career as an artist and a piano performance by Eriko Hatta, a composer born in Tome City. The various local foods were also served.



"Paintings by Satoru Sato's Fellow Artists" Held
Many works of art donated to this museum by Sato's friends show the trend of geometrical constructive painting, rare in Japan. Visitors can see some aspects of European art history in the abstract paintings in the collection of over 255 pieces by over 140 artists from around the world, particularly in geometrical constructive ones.
This exhibition, starting on July 28, 2007, displayed 45 pieces by Sato's fellow artists from the collection.


Satoru Sato's Contemporary Art Class Held
Sato offered a class on contemporary art at the museum on February 23, 2008.

Satoru Sato's move art classes held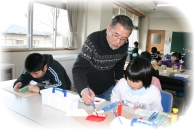 February 21, 2008: Nakada Tome City Center, second floor of lifelong learning "creative room" to be held.
Yoneoka Tome City Elementary School (the principal Naohisa Tiba), second grade 28, said Satoru Sato directly by the leadership of engineering drawing.
Children over a half an hour, using a piece of wood molding and paint the artwork preoccupation with one's eyes alight with the excitement of a modeling school.

Satoru Sato drawing class exhibition
August 19, 2007 held

Satoru Sato Art Museum opening ceremony
July 28, 2007 (Saturday), 10 am: Nakada Tome city center in the third floor of lifelong learning, "Satoru Sato Art Museum " opened the ceremony will be held.