The Satoru Sato Art Museum's permanent collection displays a variety of works spanning 44-year journey from a student at Sanuma High School in Tome City up to the present.
The collection also has many pieces donated by the friends I have met during my 38 years in Paris. Many of these works are called "geometric constructive art," which is quite unusual and rarely seen in Japan. Though the collection is small, it is rare to display a collection with such a clear focus, whose abstract paintings, specifically the geometric constructive paintings, give a glimpse of a trend in European art. This trend began in the 1920s in Northern Europe. It has changed over the years and has been taken up by young artists. The trend has the potential to become a driving force behind a new world of art.
I hope that visitors to the museum will approach these works of art which use simple circles, squares, triangles and straight lines and find them at once interesting, fun, playful, warm, cold, intense, harsh, tranquil and in balance with nature.
Children, along with nature, have an unconscious sense of the essence of art. I hope that they will also come to a conscious realization of the importance of art. This will make art even more alive and interesting.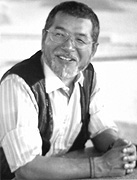 Satoru Sato