---
The Satoru Sato Art Museum took a trip to the JTB tours "The Hotel KANYO and Time Travel to the Meiji era," , On October 13, was published as a newspaper insert fliers.
| | | | | |
| --- | --- | --- | --- | --- |
| | | | | |
| JTB flyers Zoom(PDF) >> | | The Museum was published in the guidebook'08 Miyagi | | Tourism guidebook '08 Miyagi |
---

Mr.Mark Brusse , visitors
August 3, 2008, a friend of Satoru Sato, Satoru Sato Art Museum, one of the authors donated, France (born Netherlands), Mr. Mark Brusse visitors.
---
Hans Steinbrenner , who has died.
Satoru Sato friend of the writer donated to the museum, one of Mr. Hans Steinbrenner Germany, who passed away in June 2008.
This site has donated 5-point work on the highest peak in memory of contemporary artists.

Hans Steinbrenner memorial page >>
---
"Tourism Recipes" (new tourist ideas) Selected

Miyagi new ideas and Tourism Routes to recruit widely, "Tourism Recipes" Routes department "Satoru Sato Art Museum of Tome City and Satoru Sato motifs in art, environmental journey"
November 21, 2007 and the unveiling of the work is awarding ceremony was held in Miyagi Prefecture. Tourism prizewinning recipes for the new tourism resources as the information provided by travel agents and commercialize as well be now.

---
Mr.Knut Navrot , visitors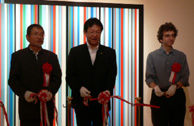 Satoru Sato Art Museum opening ceremony at the museum, donated a writer, one of France's visit to Japan Knut Navrot the visitors.
He has cut the tape to join the ceremony.
Then, the city's environmental Satoru Sato made figurative art museum and Shotaro Ishinomori hometown museum visits.

  Mr.Knut Navrot , snapshots >>
---
Satoru Sato Art Museum opening ceremony
July 28, 2007 (Saturday), 10 am: Nakada Tome city center in the third floor of lifelong learning, "Satoru Sato Art Museum " opened the ceremony will be held.