Exhibition of Overseas Artists
"Paintings by Straight Lines and Visual Art"
Many works of art donated to this museum by Sato's friends show the trend of geometrical constructive painting, rare in Japan. Visitors can see some aspects of European art history in the abstract paintings in the collection of over 255 pieces by over 140 artists from around the world, particularly in geometrical constructive ones.
This exhibition displays 63 pieces on the third floor, selected from the collection, which are paintings using straight lines on a surface plain, relief, obje, and works of visual art. In addition to this, a cubic work is displayed in the entrance hall. Here in this work, there lies the world of a straight line, or a world beyond the line.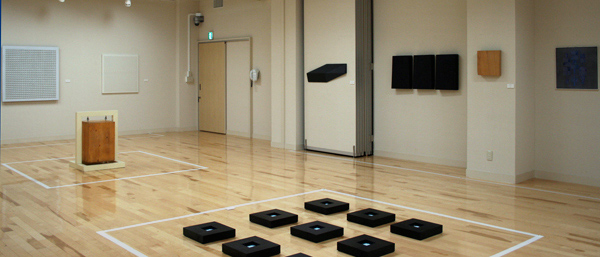 The following are the names, in alphabetical order, of the overseas artists on exhibit in the museum.
Artists ( A - B )
Yaacov Agam
César Andrade
Angelo Giuseppe Bertolio
Gaël Bourmaud


Andrea Bozzolini


Mark Brusse
Artists ( C - G )
Nino Calos
John Carter
Ivan Contreras-Brunet
Carlos Cruz-Diez
Jean Dewasne
Otto Freundlich


Kunibert Fritz


João-Carlos Galvão
Artists ( H - M )
Hernandez & Fernandez
Imre Kocsis
Jo Kuhn
Antonia Lambelé
Jean Leppien
Sol Lewitt
Mad
Mondrian & Seuphor
Mehdi Moutashar
Artists ( N - R )
Aurelie Nemours
Judith Nem's
Roland Orépük
Sigrid Pahlitzsch
Christian Parquet
Claude Pasquer
Luc Peire
Dario Perez-Flores
Gudrun Piper
Karin Radoy
Sigurd Rompza
Guy de Rougemont
Artists ( S - Z )
Francisco Salazar
János Saxon-Szász
Michel Seuphor
Jésus Rafael Soto
Hans Steinbrenner
André Stempfel
Luis Tomasello
Marie-Thérèse Vacossin
Victor Vasarely
Michael Warren
Ruth Elisabeth Wechlin
Jacques Weyer
Martin Wörn